Tap Truck
Our Vintage Tap Vehicles are ready to park and pour! We provide cocktail and beverage catering for locations all across Arizona and service events ranging from 25 to 5,000 thirsty guests. Whether it's a corporate or private event, beer festival, tailgate, or group golf outing, we'll keep the good times flowing! We can serve beer, wine, custom cocktails, cold brew coffee, kombucha or anything else in a keg. Our unique vintage style will be a hit at your next event!
Craft Your Event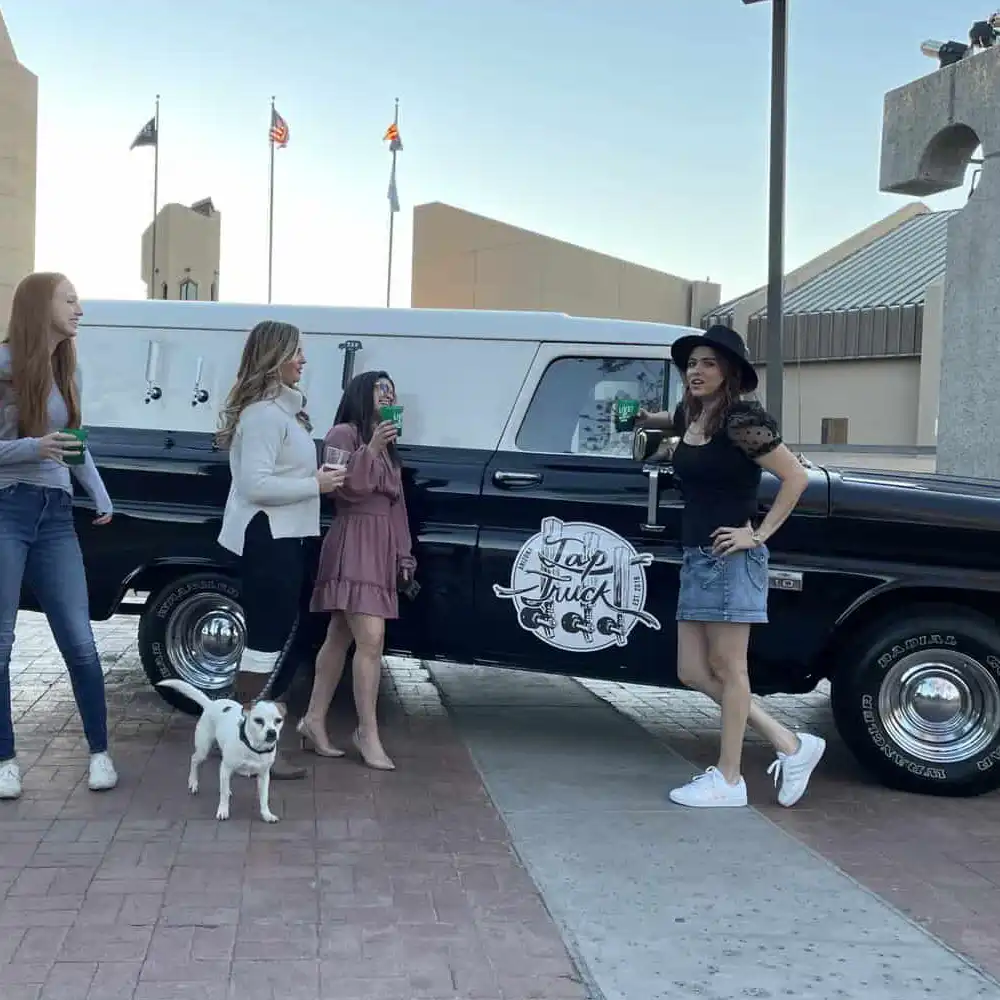 Why Hire a


Liquid Caterer
Convenience
Forget the hassles of logistics. We bring the bar, cups, and ambiance directly to your event.
Customizable Menu
Tailor your drink list perfectly to match your event's theme and guest preferences.
Skilled Professionals
Our Title 4 Certified bartenders are more than servers. Expect flair, expertise, and charisma with every pour.
Craft Your Event
1958 Ford Tap Truck
Our Ford 1958 vintage tap truck is equipped with 6 taps and will surely stand out at your event! Four of the taps can be utilized for anything that comes in a keg such as beer, kombucha, and cold brew and the other two taps can serve wine, cocktails, mocktails, tea, lemonade, and more on tap!
4 Taps Able to "Tap Anything"
1966 Chevy Tap Truck
Our one of a kind 1966 Chevy panel truck (A.K.A Alice Marie) has been converted into a Tap Truck equipped with 5 taps and is truly an event showpiece! With the ability to "tap anything" this beauty can serve up beer, wine, custom cocktails, soda, kombucha, cold brew coffee, iced tea, and much more! If we can put it in a keg, we can TAP THAT and create a fun focal point for your event. When hosting your next event, Tap Truck, complete with one of our professional "Taptenders", will WOW your guests!
Cushman Tap Cart
Finlay Ray is our fancy and elegant little guy, featuring four taps. Finlay, or "Lil' Fin" as we call him, is perfect for pouring custom cocktails, wine or any non-alcoholic beverage in an elegant, yet welcoming fashion. Lil' Fin can also fit into virtually any space, making him more accommodating to almost any home, office or venue. One of the best things about Finlay is that he can be dressed up in any way you like! In the past, clients have dressed him up in balloons, flowers, and even their logos. So welcome the "CUSH Life" to your next event by adding this stunning vehicle to elevate the experience!
Tap Wall & Tap Bar
From tap to glass, you dream it, we can pour it! We'll keep it flowing whether you want to pour cocktails, mocktails, beer, wine, coffee, or non-alcoholic beverages. You can even customize these rentals with your brand! The Tap Bar & Tap Walls have a smaller foot print and are great for any size events!
Our


Service Areas

Proudly serving the Phoenix Valley Area since 2016
Our Happy Customers
I just finished Dj'ing a large wedding at Heritage Square. And this team of bartenders, manning 2 different locations, with 4 staff members were on top of everything. The team was friendly, efficient and worked well with guests and vendors together. I would definitely refer them business in the future.
Such a professional and lovely company to work with! They clearly communicated their services and gave us options that met our needs. The bartender they sent was so nice! His name was JT, he showed up an hour before our event and was very professional. He was such a pleasure to have! Our guest loved his service and suggestions! At the end of the night he even made me a drink before he left without me asking for one! What a sweet and thoughtful gentleman! A total 5 stars for this bartending company!
My fiancé and I sat down with Jake to taste a few drinks for our potential customized cocktail at our wedding. We had an idea about what we were looking to go with, but Jake showed us some even better options that blew our minds. He was professional in that he cared about what we like and worked around our palettes in a way that we believe catered to both of us and the theme we are going for at our wedding. The experience was a blast and we look forward to having Couple of Bartenders at our wedding for others to try!
I hired a couple of bartenders for my wedding. They were super professional and very fast. My guests and I were impressed by their attention to detail. I would highly recommend hiring them for your next event.
We had a professional bartender Chris on short notice and our wine tasting went off without a hitch!! Thank you again!
I just got married over the weekend and let me just say I would recommend Couple of Bartenders to anyone. Our bartender was Kyle and he was very professional super fun to work with at the same time. He kept the vibe up and going and even met our needs for a request that we had. I highly suggest partnering with these guys for any event!
We loved having Christian as our bartender for a backyard bachelorette pool party!! He was so much fun, very respectful, and easy to work with! We couldn't have asked for a better fit for our event. Thanks for making our experience so great and smooth. Couple of Bartenders was fast and easy to communicate with.
Amazing. Engaging. Fun. If you are looking for a great virtual happy hour experience. This is it. Neal was great.
MaryLynne Christman, CMP, CSMM
We had a wonderful time doing a tasting for our wedding. Jake was incredibly knowledgeable, funny, personable, and hospitable! He made our experience great and worked with both my fiancée and I to create signature drinks we both would like. I recommend "Couple of Bartenders" to any one in the Phoenix area that is in need of a couple of bartenders for any event!
Unfortunelty due to the pandemic we could not use their services as the wedding we booked with them had to be cancelled. However every interaction leading up to and after the booking was incredible. Kinsey was super to work with, offered amazing drink ideas, was personable, responsive to our calls and in the end, considerate to our situation. Even though we had to cancel, she was very professional, and so kind that we would definetly recommend them to anyone.